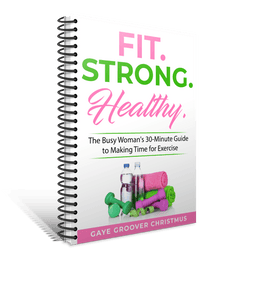 You want to start exercising regularly. You know that exercise is great for your body and, maybe even more importantly, for your mind.
It helps you feel less stressed and more energized. And it keeps you strong and helps you lose weight or maintain a healthy weight.
You know all that. But - there's a problem. You struggle to find time and energy for exercise in your busy schedule. Even if you plan to exercise regularly, life gets in the way.
You can count on it. Work, kids' activities, church, the house, the yard - the demands on your time just go on and on.
If that's the position you're in, then Fit. Strong. Healthy. is for you. It will help you overcome the busyness and figure out a way to fit exercise into your life regularly - without turning your life and schedule upside down.
Specifically, this 32-page ebook will help you:
Understand why you want to exercise regularly

Determine what's getting in your way

Figure out how to overcome the things that are getting in your way

Make a plan

Get started and stick with your plan.
It also provides lots of encouragement to keep stay on track when things get tough. And, it helps you work through this process in about 30 minutes - because you don't have any time to waste.
Get Fit. Strong. Healthy.The Busy Woman's 30-Minute Guide to Making Time for Exercise today, and start reducing stress, getting strong, and feeling great tomorrow.
As with all of my ebooks, there's a 100% satisfaction guarantee. If you're not happy with it, just email me at gc@calmhealthysexy.com and I'll refund your purchase price.