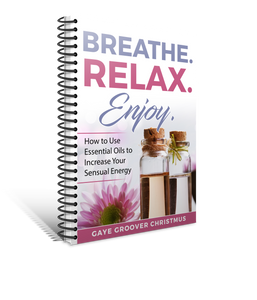 Have you forgotten what it feels like to be a sensual and sexual woman? Do you feel as if sex and intimacy take more time and energy than you have to give? Have you lost your libido - wonder if you'll ever find it again?
And do you end up feeling guilty, frustrated or confused about what's going on (or not going on) in your love life?
If so, you're not alone. I've felt that way many times throughout my marriage, and I've heard from dozens of women who feel exactly the same way. I know how frustrating it is, and I wanted a simple and practical solution.
As a busy wife and mom with a family and a full-time job, I know what it's like to lose interest in sex, to feel frumpy rather than sensual, and to feel like sex is just one more item on your to-do list.
But, as a health and marriage writer, I also know how important a fun and intimate sex life is, both to your marriage and to your own health and sense of well being.
So I went looking for a simple, practical solution - something even the busiest woman, wife and mom could do to feel more sensual, increase her libido, and boost sex and intimacy in her marriage.
The result of my research is this ebook - Breathe. Relax. Enjoy. How to Use Essential Oils to Increase Your Sensual Energy. It's a simple, practical guide to using essential oils to feel more sensual. It's written specifically for women like you - busy wives and moms who don't have much time and energy but want to feel sexier and more sensual and to enjoy sex and intimacy in their marriages.
Here's what the ebook will help you do:
Learn the most likely reasons for your low libido or limited interest in sex and simple steps you can take to overcome them

Learn why women have used essential oils and scents to boost sexuality for thousands of years

Find out which essential oils are most likely to help you feel more sensual and to enjoy sex and intimacy more

Learn how to create essential oil blends that many women find to be sensual

Start using essential oils in ways that are most likely to help you feel sensual and boost your libido
Here's what women are saying about the information included in the Guide:
"I love this. I've used oils for years, but never for sensuality. You've opened my eyes." - Valerie

"I've been reading your information for a while and love it! I just bought some essential oils for the first time and am excited to try them." - Amanda

"What I like most about your information is that I always, always learn something new. I love essential oils, but I have to admit that I've never tried ylang ylang. After reading this, I will definitely give it a try." - Ana
If you're looking for a simple way to add some romance and sexual energy to your life, check out this ebook. And I'd love to hear how it works for youl
As with all of my ebooks, there's a 100% satisfaction guarantee. If you're not happy with it, just email me at gc@calmhealthysexy.com and I'll refund your purchase price.