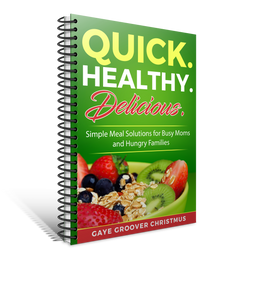 If you're a busy mom on the go, and especially if you're trying to feed a busy family, you know how tempting it is to rely on fast food and prepared meals. It's hard to come up with easy and healthy family meals when you're pressed for time - and meals cooked by someone else just seem so tempting!
The problem, of course, is that those meals tend to include a lot of ingredients your family doesn't need - like salt, sugar, trans fat, artificial colors - and very few ingredients it does need - like fruits, vegetables, whole grains, and healthy fat. What you need instead are easy and healthy family meals that fit your schedule and don't break the bank. 
Fortunately, you don't have to rely on fast food and prepared meals, even on your busiest days. With a little bit of planning and a pantry and refrigerator stocked with some healthy staples, you can serve easy and healthy family meals - quick, delicious and clean eating breakfasts, lunches and dinners - even when you're strapped for time.
And this 20-page ebook can help you get started.  It includes 22 strategies for getting healthy meals on the table quickly and easily plus 24 healthy, quick family meals made from real food ingredients - breakfasts, lunches, and dinners. 
These are the meals I serve to my family on some of our busiest days. And they're meals you can make when you want to eat well and feed your family well, but have almost no time to cook.
Get the ebook now and get started on a healthier eating plan for your family, without creating a lot of stress for yourself.