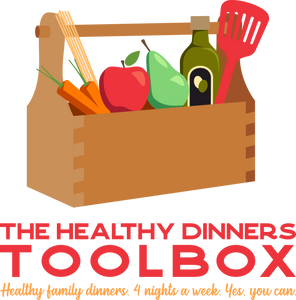 Healthy family dinners. 4 nights a week. Yes, you can.
The Healthy Dinners Toolbox will help you get a healthy dinner on the table four nights a week – regardless of your schedule, commitments, or responsibilities.
Do you want to serve healthy, delicious dinners to your family as often as possible – preferably most nights of the week? And do you want to avoid serving fast food and processed food as much as possible? I'm fairly certain that you do, because you know that healthy meals help everyone in your family (including you!) feel better, think better, and stay healthier. And you know that fast food and processed food do the opposite.
 But, as a busy woman, you often find yourself relying on dinners you'd prefer not to serve, because your job, schedule, and responsibilities just get in the way. All of that planning, shopping, prepping, and cooking that healthy dinners require – who has the time?
You do – and that's true regardless of your job or family or community responsibilities. You just need to make 3 simple tweaks to the way you approach meal planning and prep – 
Make a small change in the way you think about healthy meals
Learn a set of simple planning and prep tools that actually work
Invest about 2 hours each week in planning and organizing healthy dinners
That's it. And I've created the resource that will help you do those things easily and without adding any stress to your life. The Healthy Dinners Toolbox will show you how to take approximately 2 hours every week to get ready to serve your family 4 healthy dinners, regardless of your schedule or commitments.
The Healthy Dinners Toolbox is a quick and easy mini-course that shows you how to plan, prep, and serve 4 healthy dinners every week, without overwhelming your schedule (or your budget). In 5 short videos (less than 10 minutes each), it walks you through a simple process for planning and serving 4 healthy family dinners this week – and next week and every week.
It also includes a workbook that covers all of the information included in the videos – everything you need to make regular healthy dinners a reality for you and your family. You can use the workbook to review the information covered in the videos, or you can learn everything you need to know from the workbook – whatever works best for you. The Healthy Dinners Toolbox also includes a bonus guide that shows you how to make 15 simple, delicious, no-recipe family dinners.
The Toolbox will teach you a new way of thinking about healthy meal planning, shopping, and cooking, and give you simple tools to help you incorporate those tasks into your schedule every week – regardless of your other responsibilities.
 Here's what you'll learn in the videos and the workbook:
Success Tips – Quick and easy steps to take before you get started, to set yourself up for success.
The P3S Method – Plan, Prep, Prepare, and Save – my simple process for streamlining the work of getting healthy family dinners on the table four nights a week.
How to save both time and money – healthy meals don't have to take hours to prepare or cost a fortune
Shortcuts and timesavers – simple ways to make the process as easy and stress-free as possible
If you've been trying to figure out a way to serve healthier dinners without driving yourself crazy, relax – I've done the work for you. The Healthy Dinners Toolbox will help you get started this week, with a minimum investment of time, no stress, and a big reward – more healthy meals for you and your family.
 Here's what you'll get –
The Healthy Dinners Toolbox workbook, which includes links to all of the videos and all of the information you'll need to put the Toolbox to work for you. (If you're like me and prefer to learn by reading rather than watching videos, the workbook includes everything you need.)
5 short videos that introduce you to The Healthy Dinners Toolbox approach, help you get organized quickly and easily, learn the 4 simple steps of the P3S Method, and discover simple shortcuts that will save you time and money.
A bonus guide, 15 No-recipe Healthy Family Dinners – tried-and-true meals that I make for my own family, plus room to add your own easy, healthy family dinners. The workbook includes a link to download this guide.
The cost this month, during the introduction of The Healthy Dinners Toolbox, is just $9, a small investment for a resource that will make it easy for you to serve healthy dinners to your family 4 nights a week – with little stress and a minimal time commitment.